My wife stopped at the market and tried to find some shaved beef for Philly Cheesesteaks. They didn't have any, but she found something labeled Carne Picada. Having no idea what that was, I had to investigate.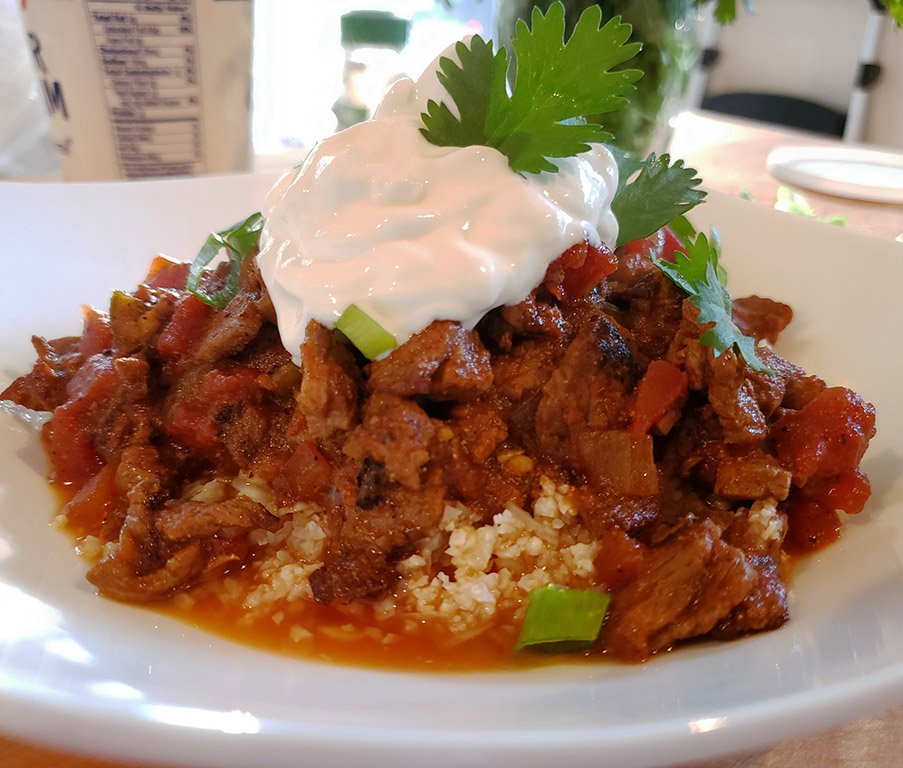 Carne Picada roughly translates to minced meat. It is a Mexican dish and is often served in tortillas (like a taco) or over rice. It is a great way to tenderize a lesser cut of beef. Plus it is easy to make, as long as you give yourself time for it to cook in a slow cooker or oven.
In trying to stay with a keto diet, we served it in a bowl over cauliflower rice, garnished with sliced scallions, sour cream and cilantro. A splash of lime would have brightened it up, too.
Prepare a slow cooker, setting it to low heat
Mince beef round into small pieces, roughly 1/4" cubes

Heat a large sauté pan to medium high heat

In batches, sauté the beef until the surface is well caramelized, stirring occasionally

When each batch is done, add to slow cooker
Add more oil and onions to the pan. Sauté until soft and golden. This will deglaze the pan, rescuing all of the tasty bits.

When the onion is close to done, add the jalapenos and sauté until they are softened

Add the garlic and sauté for just a minute or two to release the fragrance

Transfer the onion mixture to the slow cooker
Add the spice blend to the slow cooker

Add enough water to almost cover the contents
Cook the mixture on low for about 5 hours or more. This will make the meat very tender and flavorful

If in a hurry, it can be cooked on high for a shorter time

If the mixture is too moist, partially remove the slow cooker cover and cook on high until obtaining the desired consistency.
This could also be cooked in the oven on low heat in a small stock pot I like Muir Glen tomatoes I used olive oil for sautéing the meat and veges. Any oil will do.