The multitude of herbs and oil make a crunchy crust bursting with flavor.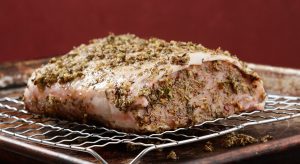 Grind coriander and fennel in a mortar and pestle.

Combine the dry ingredients of the run in a small bowl

Stir in olive oil until you have a medium thin paste, using more or less oil as required

Coat the roast on all sides with spice rub

Place on a rack in a roasting pan or on a baking sheet

Roast in the oven until the internal temperature reaches 135-140

Remove from oven and let it rest for 15-20 minutes before carving. It will continue to cook while it rests.

Carve across the grain and serve.