A couple of months ago my doctor decided that I was getting strong enough to try a Ketogenic diet. This is designed to convince the body to stop burning sugar and, instead, burn fat. Since the toxins I was exposed to are stored in fat cells, this does double duty of losing weight and getting rid of stored toxins. It also helps to fuel the brain and repair any damage done to the neurological system.
On this diet, I am supposed to eat only 5% carbs, 25% protein and 70% fat. (I aim at keeping my carb intake down to 20g per day. That is equivalent to 1.5 Reeses cups or a half of a medium order of McDonalds fries. All day!)
It is hard to find that much fat without consuming carbs. One of the cures is to make and eat fat bombs as a snack. They are made of healthy fats and no added sugar.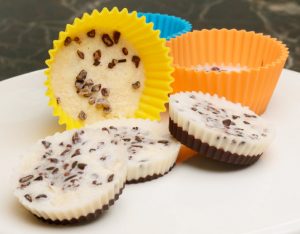 To make life easier, I am using silicone baking cups. The ingredients easily release from the cups and they are easy to clean.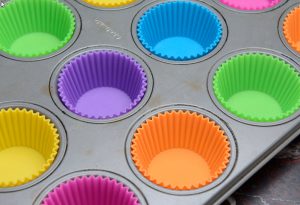 Chocolate
The first step in making these is creating a layer of chocolate, letting it cool, then adding a layer of coconut cream, coconut oil and some other goodies to ad some texture and crunch. I like to use roasted almonds, some raw coconut and a few cacao chips.
I have been using Lindt 90% chocolate bars, but am thinking of getting into using 100% pure raw bulk chocolate.
There are only 30 grams of carbs per bar with 12 of those being dietary fiber. So, using one bar for 12 fat bombs leaves only 1.5 grams of carbs per serving.
Melting the chocolate in a double boiler is not problem at all. Tempering chocolate is something that I am just learning. Tempering gives chocolate that nice firm snap and it doesn't melt on your fingers.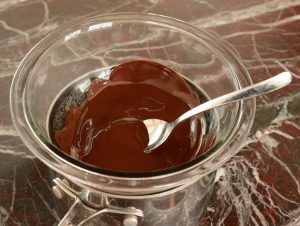 Once melted (and/or tempered), it is easy to drop enough chocolate into the cups to cover the bottom. Not much is needed. One bar makes for about 1.5 teaspoons of chocolate per cup.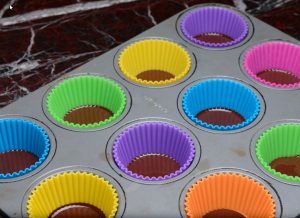 Coconut Butter
I make my own coconut butter. The shredded organic unsweetened coconut comes from our local coop. Throw about a pound of raw coconut into a strong food processor and let it spin for 20-30 minutes until the oils release and the pulp is ground fine.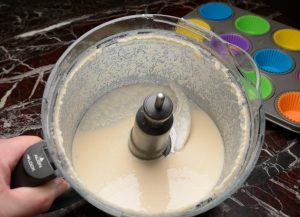 Some people strain the resulting mixture to remove the pulp. I happen to like the pulp and use it as is. I used to store it in a mason jar. However, that made it hard to extract the amount needed for a recipe. I have change to molding 1/4 cup serving in a silicone muffin tin and storing them in the refrigerator. It is then very easy to apportion the amount needed for a recipe.
Final Product
The final product is a not-so-sweet treat. The right amount of salt in the coconut mixture is the key to balancing the flavor. They should last indefinitely, especially if they are stored in the refrigerator. However, it is unlikely that a dozen stand a chance of lasting the week.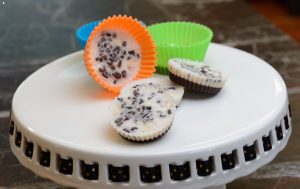 Melt (preferably temper) the chocolate in a double boiler. Split among 12 baking cups (about 1.5 teaspoons per cup.) Cool in refrigerator until solid.

Combine coconut butter, coconut oil and vanilla in to double boiler until melted and combined. Season to taste with salt.

Put your texture components (chopped almonds, shredded coconut) in the baking cups on top of the chocolate

Spoon the hot coconut mixture into the cups (1.5 tsp per cup) making sure the contents are level and the raw coconut is saturated.

Sprinkle raw cocoa nibs onto the coconut mixture for more texture and for decoration.
Nutrition Facts
Fat Bombs
Amount Per Serving
Calories 176
Calories from Fat 153
% Daily Value*
Total Fat 17g 26%
Sodium 5mg 0%
Potassium 37mg 1%
Total Carbohydrates 6g 2%
Protein 2g 4%
* Percent Daily Values are based on a 2000 calorie diet.