Last night I was so bummed about dinner. I had intended to make chicken with pesto spaghetti squash. During the final assembly I realized the store-bought pesto had gone bad. frown emoticon So, it was a scramble to figure out how to finish the chicken and squash. It turned out great after all – just not pesto.
Since the yearning was still there and I had never made pesto before, tonight's dinner was homemade pesto with shrimp. Maybe that was better anyway.
Our local coop has a great deal on bulk basil. We have fresh mint growing in our garden. (Yes, I know it is Minnesota but there is a trick.) Basil with a hint of mint. It turned out great.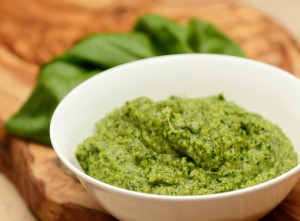 Find the recipe here.
That along with sauteed shrimp and roasted spaghetti squash made for a fine dinner (oh, and roasted asparagus.) My wife gets the leftovers for lunch the next day. She is the envy of the office.

Heat a skillet to medium high heat

Add about 1 tbsp ghee and 1tbsp olive oil to the skillet until it shimmers

Add the mushrooms and a sprinkle of red pepper flakes. Cook, stirring regularly, until they are well browned.

Add crushed garlic and cook for about 30 seconds until fragrant

Remove the mushrooms and garlic from the skillet and reserve
Rinse the shrimp in cold water and dry with a towel or paper towels

Add more ghee and/or olive oil to the skill and turn the heat up to medium high

Place the shrimp in the skillet one by one loosely arranged in the pan, giving them room between each other

Sprinkle the shrimp with with red pepper flakes and dried oregano

Allow to cook for about 2 minutes until they start to turn pink and are browned on one side

Turn over and cook for about 2 minutes on the other side, sprinkling with red pepper flakes and dried oregano

Remove shrimp from the pan. Work in batches if necessary

Lower the heat and deglaze the pan with the white wine
Add the spaghetti squash to the skillet and warm

Stir in about 1/4 cup of pesto and warm

Serve immediately, either placing the shrimp on top of the pesto squash or combining them