Today I found the best chocolates truffles I have ever tasted, and I have tasted a lot of chocolate.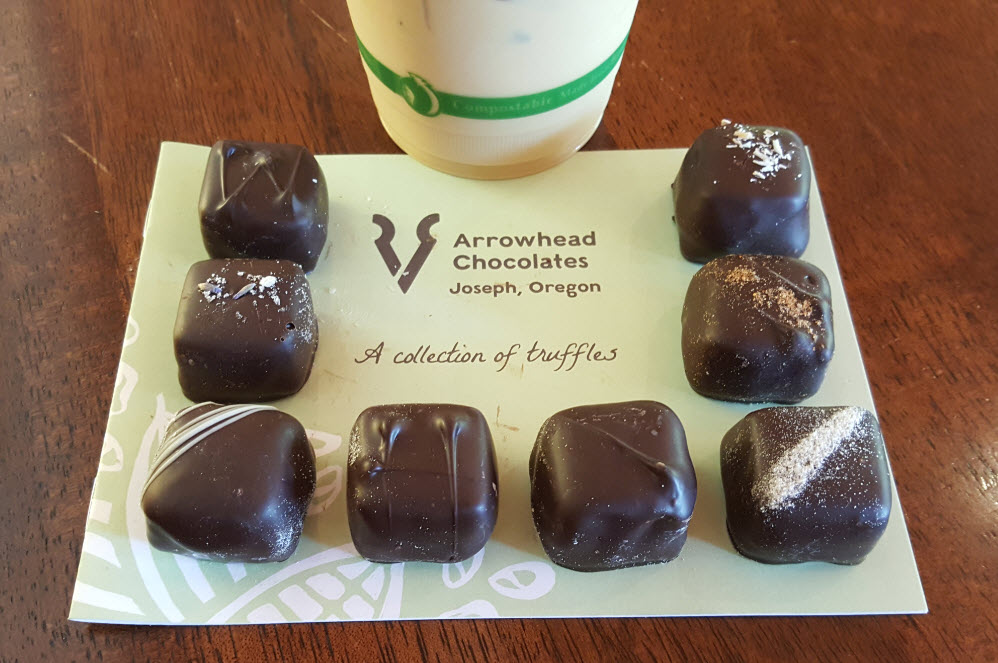 Welcome to Arrowhead Chocolates in Joseph, Oregon.  I was passing by their store today while idling through the galleries and gift shops along main street.  Since my supply of Stumptown bottled cold brewed coffee had dwindled to nothing I needed another fix for this afternoon. Entering the store and asking at the counter, they did have cold brewed coffee and it was even from Stumptown beans.  And, they have dark chocolate truffles.
Win, Win, Win.
Later that afternoon I stopped in for my fix.  Of course when you are in a coffee shop that is also a chocolatier, one must have chocolate.   It was impossible to decide which truffles to get.  I should have just gotten them all.  As I didn't intend to get more than one or two and I didn't think of getting one of each until just now, I started collecting them.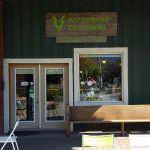 Each time the counter attendant asked me if I wanted dark or milk chocolate.  Does such a thing as not-dark chocolate even exist?
I counted off the flavors as follows:
Huckleberry
Coconut
Lemon Cream
Ardbeg Whiskey
Honey-Lavender
Peanut Butter
Tiramisu
Raspberry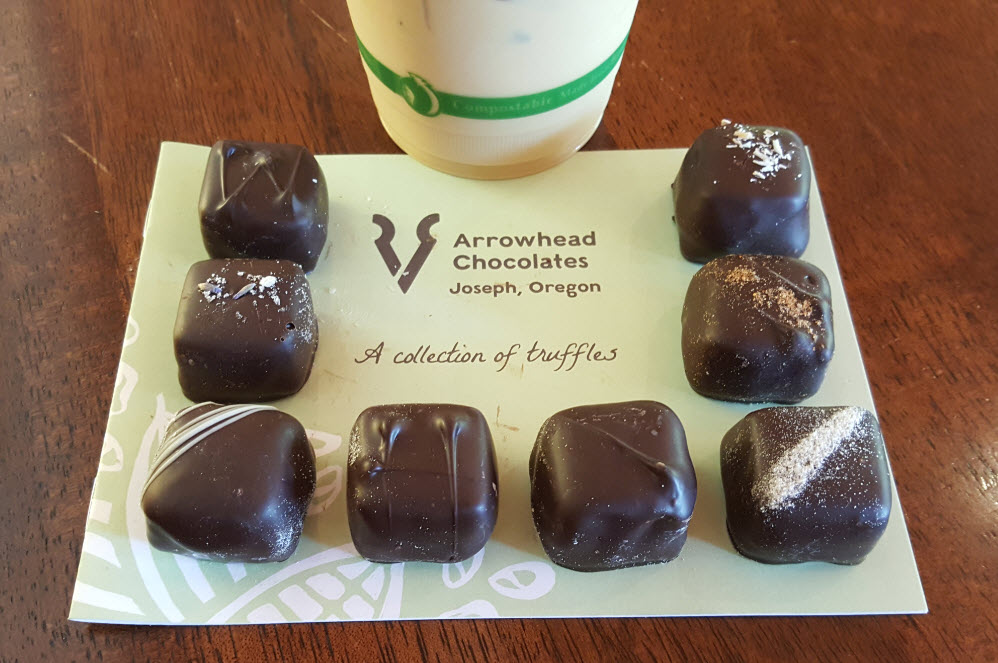 I only ate four of the truffles throughout the day today.  In my mind that is fairly disciplined.  The indulging happened in this order:
Ardbeg Whisky Truffle – "Made with a rich, smoky single malt Scotch whiskey from the isle of Islay."  I am not a whiskey drinker, but this was really, really good.  If you are not going to drink your whiskey, why not eat it in your chocolate.
Huckleberry – "2013 Good Food Award Winner made using wild Idaho huckleberries."  I love huckleberries.  I bought them in bulk last year when visiting my daughter, Heidi, in either Wyoming or Montana. This carried the sweet and tart huckleberry flavor along with the rich velvety ganache.  (As an aside, earlier in the trip I bought a bar that purported to be dark chocolate with huckleberry essence.  After one bite I threw it in the trash.  It had neither cacao nor huckleberry in it.)
Honey-Lavender – "Honey-sweetened cream ganache infused with local lavender buds forms the center of this treat."  This one caught me off-guard because I couldn't tell from the topping which one I was eating.  It was like a visit to a spa.  The lavender was at the same time both aromatic and salty, a wonderful combination.  This has to be the most unique truffle I have tasted.
Coconut – "Made with a generous amount of Thai Kitchen organic coconut milk."  I love coconut.  I expected a light coconut flavor.  I was wrong.  Not sure how they packed that much coconut into that small of a truffle.  It was rich and delicious.
The other four truffles will have to wait until tomorrow.
A gallery owner down the street found out that I had a degree in chemistry as we were talking about bronze sculpture patina.  She suggested that the owner of the coffee/chocolate shop also had a degree in chemistry and had converted that knowledge and passion into chocolate. I spoke briefly with the owner, Erica, and it turns out to not be true.  Great story, just not true.  Erica was a kind person with a gift for chocolates, just not a chemist.