Sunday
Sunday was a really tough day.  I traveled from central South Dakota to Rapid City.

BTW, this is what the Sacajawea statue/sculpture looks like in the daylight.  Pretty impressive.  She is 50 feet tall.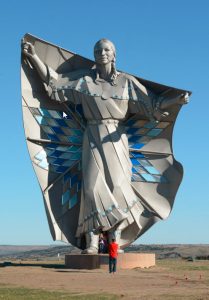 Then came the challenging part – finding a campsite.  I am used to camping a lot on BLM land in states like Wyoming, Montana, Utah, etc.  Although boondocking (dispersed camping) is allowed in the Black Hills National Forest, it has proven to be more difficult than the BLM land.  Much of the National Forest is actually private property.  That makes the search much more interesting.
I had stopped at the information center in Rapid City.  They gave me a list of National Forest campground that were still open.  Since it was getting late in the day, I figured that would be an easier option.
After getting to Custer, I headed east towards the first one on my list – Bismark Lake.  It turned out to be a nice campground next to a little lake.  Driving through the campground, I stopped to ask one camper if they were intending to have a campfire (they had a stack of firewood.)  Immediately I noticed another camper had just started their campfire.  Not going to work.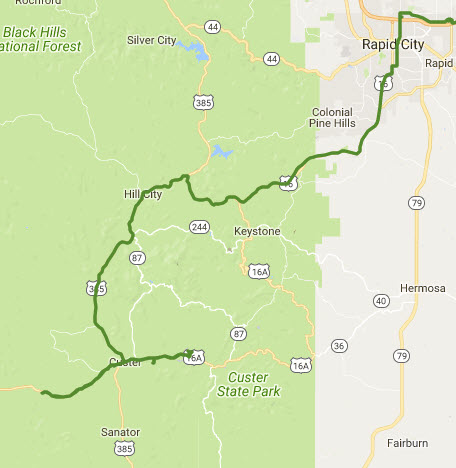 Headed west to my second choice.  They claimed to have 5 sites open for winter.  It turned out to be 5 tent sites.  That is not going to work.  Not sure whey they can't just leave the gate open, turn off all the facilities and let people park.  Oh, well.
After pulling back into Custer, parking by the side of the road, researching a little and crying a little, I drove down the road and actually paid for a site.  I was too tired to argue with myself anymore.  Ended up at Custer Mountain Cabins & Campground.  It is a very nice campground.  It was quiet, had electricity and a decent Verizon 4G LTE signal (I am still working, after all.)
When I explained to the lady handling the office (owner, I presume) that I was very reactive to campfires, she was very considerate.  Put me way in the back of the campground a long ways away from the few other campers staying there.
Interestingly, when I described why I was so reactive, she said "We went through that, too."  A bit puzzled I queried, "Out here in South Dakota?"  She answer, "No, back in Minnesota!"   Duh.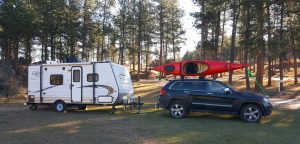 I got myself backed into the site.  Cold and tired, electrical hookup, leveling and stabilizing would have to wait until morning. I snuggled myself up in a big fluffy down comforter and went to sleep.
Monday
Monday didn't start out all that great.  I had some meetings, made some breakfast, got the trailer situated and set out exploring.  Needed some groceries and some lunch.
It turns out that Custer, a tourist town, kind of shuts down in October.  Many of the restaurants were closed because the proprietors were finally on vacation.  I chose one that looked hopeful.  Walked in and sampled the air as the hostess stared at me quizzically.  She offered me a menu which I pretended to look at while continuing to sample the air.  After a few moments, the headache and my olfactory senses told me that it would not work.  Many of the buildings in Custer are about 100-150 years old.  Plus, someone had smoked a cigarette in the building sometime in the last 100 years.
I set off looking for other choices.  The only two newer choices in town were Subway and DQ.  I chose Subway.  It had been many years since I had been in a Subway.  It was okay, but it didn't fuel my body.
After some time of fuming at myself and my predicament, the decision was to go for a drive.  That always ends up being healing.  I drove into Custer State Park.  Tried to buy an annual pass, but could not find anyone to take my money. Oh, well.  Some day someone will stop me and exchange a sticker for my cash.
After driving to some of the venues in the Park, all of which were closed, I gave up and decided to go for a stroll.  I can walk again!!! The stroll ended being a two mile hike up a small river.  Very refreshing.  Yes, the guy who in Minnesota cannot walk across the living room without a cane and leaning against the wall hiked two miles and navigated several of these narrow, wobbly footbridges.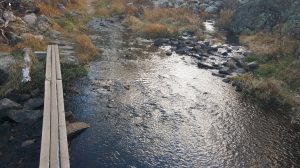 The more sensible part of me decided to turn back about a mile in.  There was a lake up the trail, but a 5 mile round trip hike was probably a bit too far.  I was feeling much better by this time.
When I got back to the Jeep, there was a flock of Bighorn sheep grazing not far from me.  I sneaking to the the side door, grabbed my real camera and started shooting (phone cameras are not so good for wildlife.)  At the moment this picture was taken, Dad wasn't too happy with something the Junior was doing and was about to head-butt Junior.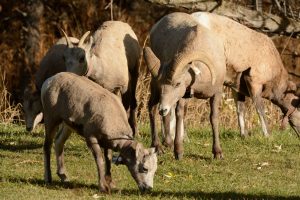 After a few minutes of shooting, another car pulled up with a family  They jumped out (one of them covered in perfume), lit up cigarettes and headed towards the flock of sheep with their phones held out in front of them. I threw my gear in the Jeep and headed out as quickly as possible.
Where do these people come from?  As a wildlife photographer, I find human behavior much more odd than animal behavior.
(You can see more of my outdoor and wildlife photos on my photo site, Moments in Nature.)
Back to the RV for a let night meeting with Minnesota and Malaysia, a bite to eat and some blog writing.
Walking
My doctor and I have been tracking my health using a Gear Fit to track my daily steps as a proxy measurement for my health.  I thought you might enjoy seeing the difference between fresh air and not so fresh air.

The yellow block in the center was my September sabbatical in Wyoming.  11,000 steps was no problem at all and I felt like I could go further.  The lower 5,000 step days in the middle of the Wyoming trips were not that way because I didn't have the energy.  I was too busy fishing or kayaking to put on a lot of steps.
Then you notice the white part when I returned to Minnesota.  I could barely get around.
The final yellow block is from the few days I have spent back in the Black Hills.  And, those first two days included driving 600 miles.
Conclusion
I hope some of you find this encouraging.  My sabbaticals may not be perfect in every way, and I have probably violated a lot of good ideas.  However, the changes have been dramatic.