Having already gone on two other sabbaticals in 2017, I am now on #3.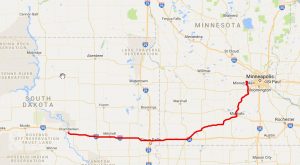 My health had gotten much better spending a good part of September in Wyoming.  I returned to Minnesota two weeks ago. Immediately, my left leg quit working.  Over the last two weeks, right right leg was starting to no longer work, either.  Now walking on one leg and a cane is hard enough.  Walking with zero legs is a completely different story.  There were even times where I resorted to crawling on my hands and knees, or even just crawling on my stomach to try to get somewhere.
I also started blacking out again.  My brain and body would go limp with no warning. It was very scary for both my wife and myself.  Even last night, we were sitting watching TV after enjoying a dinner together.  All of a sudden it hit again.  I was passing out.
First, my eyes go shut.  Then my brain fogs over.  Then I lose motor control.  With crutches and guidance from my wife we were able to get me upstairs into the bedroom.  Although what should have been a 30 seconds walk turned into a 20 minute journey.
We decided that I need to get out of Dodge and regain some sense of sanity.  Then we will bring me back to Minnesota for a few days, but not to our house.  Finally, we will bring me into the house.  At that point we should have some idea whether the problems are stemming from the air in Minnesota or just the air in our house.
My amazing wife helped me pack up the RV trailer again and sent me off down the road, not knowing quite what to expect.  I could barely walk by dragging my left leg behind me and leaning on my crutch.  We got the trailer connected to the Jeep and off I went.
The air was heavy on my lungs as I headed southwest.  Then, just to make things more interesting, I passed several large fields that had just been sprayed with liquid manure.  If anyone know what that is, it has a very special and overpowering fragrance.
The Good News
I was wondering how long before my left leg started working again.
I stopped in Worthington, MN (green arrow) for fuel.  The pump wasn't working so I had to go inside the station to prepay.  My left leg would not work at all.  It dragged behind with with my foot scraping across the ground.
The next stop was at Cabellas in Mitchell, SD.  I always like to stop there.  Maybe I forgot some gear, maybe I think I need some new gear or maybe I just need an excuse for a break.  I parked the Jeep, got out my cane and started walking to the store.  Lo and behold.  I did not need my cane.  I walked all over Cabellas without a cane.
Then I stopped for some dinner and went to fuel up again (this happens quite often at 8 mpg.)  I never even thought about using my cane.  My left leg was working fine.  No limping.  No dragging.  Just like a few weeks ago when I was in Wyoming.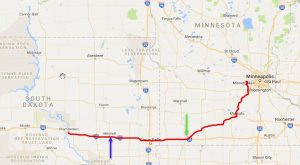 I find it absolutely amazing how much of a difference a few miles (120 in this case) can make when it comes to location effect.  I did notice that about the time I crossed from Minnesota into South Dakota, my breathing was less labored.  Much less garbage in the air.
I am resting for awhile under the watchful eye of Sacajawea.