I found a new treat! And, it fits into the eating plan I am following. It is Crème Fraîche.
Imagine a creamy, nutritious and indulgent treat made out of healthy fat. It is made from heavy cream cultured on the counter-top with a little bit of yogurt or buttermilk. It will take 12-24 hours with buttermilk and more like 24-36 hours with a yogurt culture. Leave it out on the counter-top until it reaches the consistency you desire. It can be made thicker or thinner by letting the culture grow longer.
Once it has reached your preferred consistency, put it in the refrigerator to stop the culture from growing. Or, just eat it all with fresh berries.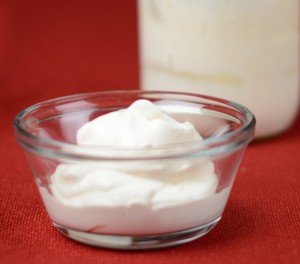 Place the cream in a bowl or jar. I like using a 1 pint wide-mouth mason jar.

Add the yogurt (or buttermilk) and stir to distribute the culture.

Cover the container with a square of cheesecloth. If it might be disturbed, secure the cheesecloth with a rubber band.

Let it sit at least 12 hours.

Check the consistency every few hours so see if it is done. You can safely stir the contents.

When the desired consistency has been reach, cover the container and place in refrigerator.
This can be made in any quantity you want.