This is my new favorite shrimp recipe. The herbs give it a richness. The peppers give it some heat. Allowing the oil to infuse with the flavors prior to cooking the shrimp allows those flavors to embed themselves in the cooking process.
I like to cook shrimp with the exoskeletons intact. Much of the flavor is packed into those shells. Sauteing them in the shell adds a lot of flavor to the dish.
We ate the shrimp with one of our favorite side, asparagus and carrots roasted with olive oil, rosemary and thyme.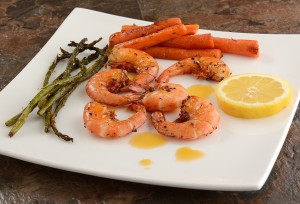 Melt ghee and olive oil in a skillet over low heat.

Separate the garlic cloves from the bulb. Smash them with a chef knife laid flat.

Add to butter and oil. Saute for 2 minutes.

Add the wine and seasonings. Let it simmer for 5-10 minutes stirring occasionally.

Raise the pan temperature to medium-high

Add shrimp, cooking for 2-3 minutes until starting to turn pink.

Turn the shrimp over and cook on the other side for about 2 minutes until just cooked through.

Remove shrimp to a serving dish

Pour the remaining pan ingredients through a fine sieve into a small bowl.

Either drizzle the infused oil over the shrimp or serve it on the side as a dipping sauce.

Garnish with lemon slices and fresh rosemary