I love pizza!!! That has been one of the hard things about going grain free. Pizza. I could eat it once or twice a day.
Sometimes you just get a need for pizza.
Imagine if a loaded deep-dish pizza had a three-some with baked ziti and a head of cauliflower. Their baby would look something like this. Cauliflower, homemade Italian sausage, pepperoni, veges, three kinds of olives, two kinds of cheese and more.
I like to make my own pork sausage.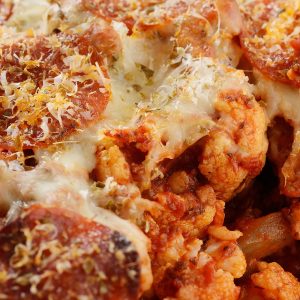 Cut the cauliflower into smallish florets, removing the stem

In a medium bowl, toss the florets in oil to coat

Place them on a baking sheet

Roast in the oven for 20-30 minutes until caramelized, mixing them around occasionally

Drop the oven temperature to 350F
Brown the Italian sausage in a frying pan

Remove from pan and reserve

Saute the onions, mushrooms and peppers until the onion are translucent

Add the garlic and saute for about 30 seconds

Add the white wine to deglaze the pan

Add in the sausage and simmer for a few minutes until the wine is reduced to a thick sauce
Mix the roasted cauliflower, marinara sauce, sausage, pepperoni, olives, paramigiano and oregano together in a bowl.

Transfer to an 8x8 baking dish. I like to use glass

Cover with a layer of mozzerella cheese.

Decorate with reserved pepperoni and olives

Give it a light dusting of paramigiano cheese.
Bake at 350F until cheese has melted and the sides are bubbling, about 20 minutes

Let it rest for 5-10 minutes if you can stand it.